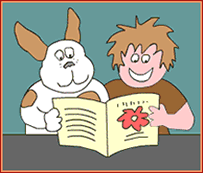 But don't judge a book by it's home page.
Read one of our books with a child and see for yourself.
Progressive Phonics is an all-in-one reading program that is easy, fun, and totally FREE---that's right, totally and completely free!
And with Progressive Phonics, ANYONE can teach a child to read and write in just a few minutes a day, which makes it ideal for parents, teachers, tutors, volunteers and home-schoolers. Our books can be read on-screen or printed on your color printer. Each book takes 4--8 minutes to print and uses as little ink and paper as possible
No experience necessary.
Just pick a book and start reading it with your child/students.
Matching handwriting worksheets
and activity sheets for each book -- when children write what they learn, they learn it better.
Also teaches the essential sight-words
(and phonics rule-breakers) that most phonics programs fail to teach.
Instant access
-- download and use today. (Free registration required, but there are sample books you can look at before registering.)
This site incorporates the alphabet, phonics, dolch site words, and writing all into one wonderful site that is totally free. M children have enjoyed and has learned a lot too. I have used this site for my younger three children. I also have a slow learning child that is in the advanced level books and has improved on his reading.